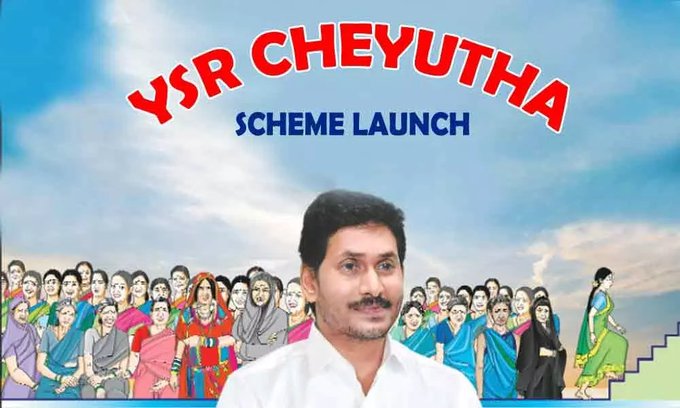 YSR Cheyutha – Andhra Pradesh government has introduced YSR cheyutha scheme on 12th August 2020. Under YSR Jagananna Cheyutha scheme government aims to provide benefit to SC/ST/OBC/Minority Community women. The vulnerable group of women residing in the Andhra Pradesh state now no need to worry about their financial problems because the Andhra Pradesh state has come up with a wonderful scheme that will help all of these groups of women to create their own employment opportunity. The name of the scheme is YSR Cheyutha Scheme 2021. Today we will share with you all the eligibility criteria, documents and etc of the scheme so that you will be able to apply for the scheme through the step-by-step guide which is mentioned below further in this article.
YSR Cheyutha 2021
YSR CHEYUTHA launched on 11th August 2020. The Government of Andhra Pradesh has taken the initiative to help 23 lakh beneficiaries and launched the YSR Cheyutha Scheme to help families facing financial problems. Through YSR Cheyutha yojana, the state government will work to provide employment opportunities to women groups in the state. Through the scheme, the Andhra Pradesh government will help to increase the rate of women empowerment in the state and provide several benefits to women. Women from SC, ST, OBC, and Minority of age between 45 and 60 will have the YSR Cheyutha scheme's advantages. The scheme is an excellent beginning for the women who belong to the minority community. The Financial benefit of Rs. 75000 is to be provided over a period of four years to those women who come under 45 to 60 years of age.
YSR Cheyutha 2021 Benefits
Under the scheme, Financial assistance of Rs. 75,000/- for 4 years is provided to the women of age group 45-60 years belonging to BC, SC, ST & Minority categories. As 1st instalment Rs. 18,750/- is credited to 22.00 lakh beneficiaries.
As per the Hon'ble Chief Minister vision to provide sustainable livelihood and to develop entrepreneurship skills among the women, the GoAP has entered into MoU with Amul, P&G, HUL ,ITC and Reliance in order to have technical and marketing support both in the areas of production and marketing.
For the women who opts production sector, the companies impart training skills to the beneficiaries as per the companies' requirement and buy back the products produced by them.
The women who opts for marketing sector is given the choice to purchase the desired products from the companies with the marginal rate and can sell in retail with profit and will continue the activity that in turn improves their status of livelihood.
The Government of AP in addition to above is encouraging the women to choose the interested local activity and MEPMA is playing a prominent role in urban areas in encouraging the beneficiary activities.
Highlights YSR Cheyutha 2021

On 22nd June 2021, Andhra Pradesh Chief Minister, YSR Jagan Mohan Reddy, has deposited ₹ 4339.39 crores into 23,14,342 beneficiaries' bank account.
The Andhra Pradesh Honorable Chief Minister YS Jagan Mohan Reddy has launched the YSR Cheyutha scheme on 12th November 2020 (Thursday) to provide financial support for the SC/ ST/ OBC and Minority Women beneficiaries. The year 2021 is the second phase of the YSR Cheyutha.
| | |
| --- | --- |
| Categories | Details |
| Scheme Name | YSR Cheyutha Scheme |
| Name of State | Andhra Pradesh State |
| Launched by | CM YSR Jagan Mohan Reddy |
| Launched Date | 12th November 2020 |
| 2021 Scholarship Disbursed | 22nd June 2021 |
| 2022 Scholarship Disbursement | June 2022 |
| Beneficiaries | Minority Women of Andhra Pradesh State |
| Major Benefits | ₹ 75000 Pension |
| Objective | Providing financial assistance to the needy women of minority group |
| Registration mode | Online |
| Official website | navasakam.ap.gov.in |
YSR cheyutha scheme
Eligibility Criteria For YSR Cheyutha Scheme
Women from weaker sections of society such as SC/ST/OBC/Minority Community.
The applicant must be above the age of 45 years. An applicant must be below the age of 60 years and should be a permanent resident of Andhra Pradesh.
No person in the family should be a government employee.
Monthly Power Consumption of the applicant should be less than 300 Units per month for YSR Cheyutha Scheme
The total family income should be under 10000 ₹ for Woman who is living in the Rural Areas and the family income should be less than 12000 ₹ for the woman who is living in urban areas.
Documents needed for application:
Address Proof
Aadhaar Card
Caste Certificate
Domicile Certificate
Age Proof
Bank Account Passbook
Photograph
Mobile Number
| | |
| --- | --- |
| Address Proof | The applicant women's need to attach their address proof where she lives, during the application form filling. |
| Caste Certificate | The applicant women need their caste certificate, according to this scheme, the women of backward caste are going to get the benefit. There should be a Caste certificate to be attached by the women of minority class to take the benefit. |
| Age Proof | Applicant women need to attach their age proof, along with the application form. This scheme is only for women who are between the ages of 45-60 years old. |
| Aadhaar Card | The applicant women's need to attach their Aadhar card as their Unique Identity. And it is also a basic and most important document. |
| Passbook Details | The applicant women need to attach their passbook details of that account in which she wants the pension amount to be credited. |
| Photograph | The applicant women's need to attach their recent passport-size photograph filling the application form. |
| Domicile Certificate | It is mandatory to attach a domicile or resident certificate of the state. |
| Mobile Number | The applicant women need to mention her mobile number while filling the application form. So that she gets the regular update about the scheme related information. YSR Jagananna Cheyutha Payment Status Online |
YSR cheyutha scheme
Apply YSR Cheyutha Scheme
Candidates can get their YSR Cheyutha application downloaded only via online mode.
Visit the official website of the AP government i.e. http://navasakam.ap.gov.in/.
Inside the website, there is a link related to the 'YSR Cheyutha Scheme', click on that link.
Then click on the 'Apply Now' option, and the application form will open.
The candidate has to fill that form by entering the required details including Name, Father Name/ Husband Name, Date of Birth, Gender, Caste, and after that click on the Submit button.
Now, upload all the asked documents.
In this way, your application/registration under the scheme will be completed.
Cheyutha Scheme Online Apply | YSR Cheyutha Scheme Beneficiary List | YSR Cheyutha Scheme Application Status | Phase 2 Beneficiary Payment Status
YSR Cheyutha Scheme: Key Highlights
• YSR Cheyutha Scheme will directly benefit around 23 lakh women who belong to SC, ST, BC, and minority communities and are in the age group of 45-60 years. They will get incentives of Rs. 18,750 per annum.
• Each of the eligible beneficiaries of the YSR Cheyutha Scheme will be paid Rs. 75,000 by the government in four years.
• The beneficiaries will also be extended loans that will be worth three or four times the value of the amount received under YSR Cheyutha with the help of banks in order to establish the business units.
• With the provided help by the Andhra Pradesh state government, the scheme will help in developing the idea of self-reliance among women from the minority.
Check YSR Cheyutha Payment Status
Visit the official website YSR Cheyutha Scheme i.e. http://navasakam.ap.gov.in/.
On the Homepage, Click on the "Search Now" Button.
A district wise list will display on your screen
Now, click on your respective District name.
Check the detailed report about that district.
Search your name under this list.
Download YSR Cheyutha Beneficiary List
In order to search the YSR Cheyutha scheme beneficiary list, one must follow these steps:
To begin with, visit the official website of Gram Ward Sachivalayam.
On the Home Page Click on "Dashboard" from the Menu Bar.
Now Select YSR Cheyutha Eligible Beneficiary List From the Drop Down Menu.
Now select District, Mandal, Secretariat, and click on Beneficiary List.
The Beneficiary List will appear on the screen.
Check your Name on the list.
YSR Cheyutha Scheme Cattle Purchase
All the beneficiaries of YSR Cheyutha Scheme will be provided with the support to sell their produce to Amul. In this regard, the Government of Andhra Pradesh is going to distribute cattle to the beneficiaries of the Jagananna Cheyutha Scheme. Cattle will include cows, buffaloes, goats, and sheep.
The Andhra Pradesh Government is going to spend around 5386 crores rs for cattle purchases. Under the YSR Cheyutha scheme milk will be collected from women at centers (Around 9688 centers are in-state), and the government will also provide facilities for collecting milk at Rythu Bharosa Kendras.
The Andhra Pradesh Government is going to purchase cattle from Haryana, Punjab, Gujarat, Maharashtra, Karnataka, Tamil Nadu, Telangana, and from the state itself. Local purchase of animals will take place From 24 November 2020 to 26 November 2020, and before February 2021 around 1 lakh cattle will be bought by Andhra Pradesh Government.
Forgot Password Service
Here we have Work flow for forgot password:
Go to navasakam.ap.gov.in
Click on login
Click on forgot password
Enter User id and click on send OTP
OTP will be sent to the registered mobile number.
Enter OTP, enter new password & confirm password(re enter) and enter captcha and click on reset password.
You will receive Password changed message.
Click on login again.
YSR Cheytutha Frequently Asked Questions
I am not a citizen of Andhra Pradesh can I apply for this scheme?
As we mentioned above, this scheme is only for women of Andhra Pradesh who belong to minority communities.
2. My age is 50 years. Am I eligible for this scheme?
Yes, you are eligible for this YSR Cheyutha scheme. those women who come under 45 to 60 years of age.
3. What is the last date to apply for the AP YSR Cheyutha scheme 2022 online?
The dates for the 2022 scheme are not announced yet. The scheme was launched by the Andhra Pradesh Honorable Chief Minister YS Jaganmohan Reddy who launched the YSR Cheyutha scheme on 12th November 2020.
4. I am an ex-servicemen Widow. Shall I apply for this scheme?
Yes. You are eligible for this scheme. It is specially launched for the poor/ Below poverty line/ Widow female beneficiaries who will allow applying for this scheme.
5. I am a permanent resident of Andhra Pradesh. But I am getting central government financial support and pension. Shall I apply for this scheme?
No. You are not eligible for it. Applicants who are not getting any scheme amount from other states or central will allow them to apply this scheme.
6. What is the financial assistance amount under this scheme?
AP State Govt would provide a financial amount of ₹ 18,740 to eligible women beneficiaries for 4 years.
7. Who is eligible for Jagananna Cheyutha Scheme?
Andhra Pradesh resident women belonging to Scheduled Caste/Tribes, Backward Caste, or Minority community and between the age of 45 years to 60 years are eligible under the scheme.
Must read – PM Kisan Status Check 2021 – pmkisan.gov.in status, Seva Sindhu Service Plus Login, registration, Apply Online – 2021,